Home
Talk

0
171pages on
this wiki
This month's article
Edit
Planetary classification is a scheme for classifying planets according to their physical characteristics. This scheme is split into several subclassifications: mass, orbit, surface, and composition. The mass classification includes super-Earth, sub-Earth, sub-Jupiter and super-Jupiter. The orbit classification includes hermian orbit, gaian orbit, martian orbit and jovian orbit. The surface classification includes desert planet, ocean planet and forest planet. The composition classification includes sulfur planet, carbon planet and water planet.
This month's image
Edit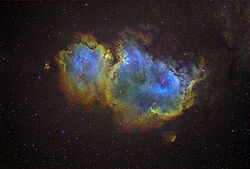 The
Soul Nebula
(also known as the
Baby Nebula
) (IC 1848) is an
emission nebula
in the constellation
Cassiopeia
, subdivision of the caelregio
Testudo
. Located 7500 light-years away, this nebula embeds several small open clusters. It is the neighbor of the
Heart Nebula
(IC 1805), referring together as the "Heart and Soul."
Did you know...
Edit