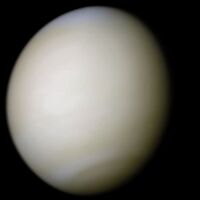 Mid-Earth (M-Class VI, symbol Eb, slogan: low-mass planet), also known as terran planet, is a classification of planet with mass ranging from 0.5 to 2 Earth masses or 0.0016 to 0.0063 Jupiter masses.
Characteristics and habitability
Edit
Mid-Earths typically have rocky surface since they don't usually have enough mass to have predominant fluid composition with gaseous envelope. Many mid-Earths have similar bulk properties to Earth. Those planets tend to have right amount of heat and convection in their interiors to initiate plate tectonics and volcanism. Mid-Earths also tend to have thick atmospheres as they have gravity strong enough to keep gases from escaping. On average, those planets have atmospheres thicker than sub-Earths but thinner than super-Earths, because their gravitational pull of mid-Earths are stronger than sub-Earths but weaker than super-Earths. That amount of atmosphere with abundant supply of oxygen and carbon dioxide would be conducive for multicellular life.
Abundance
Edit
There are an estimated 185 billion mid-Earths in our galaxy alone, making it the most abundant mass class of planet. This corresponds that 226‰ of all 820 billion planets in our galaxy are mid-Earths.
Known mid-Earths
Edit
There are only 30 known mid-Earths as of February 2014, two of them in our solar system including Venus (Sol c, P2, 0.82 M⊕) and our home planet, Earth (Sol d, P3, 1.00 M⊕). Extrasolar mid-Earths are extremely hard to detect because they're so small, that's why there are only less than thirty such exoplanets identified out of more than a thousand. The first mid-Earth exoplanet discovered was Moneta (HD 10180 b, P454, 1.75 M⊕) on August 24, 2010. In December 2011 Kepler discovered four mid-Earths: Tvashtri (Kepler-20e, P685, 0.72 M⊕), Shantadurga (Kepler-20f, P686, 1.13 M⊕), Yami (Kepler-70b, P687, 0.56 M⊕), and Hari (Kepler-70c, P688, 0.68 M⊕). Kepler also found two more mid-Earths in August 2012: Hyacinth (Kepler-54c, P805, 1.73 M⊕), and Vili (Kepler-59b, P814, 1.53 M⊕). Two months later, a mid-Earth was discovered in the nearest star system to Earth, Ixionidae (Alpha Centauri Bb, P832, 1.28 M⊕). On June 7, 2013 Evanthes (Gliese 667 Ch, P900, 1.31 M⊕) was discovered in a seven-planet system.
Related links
Edit