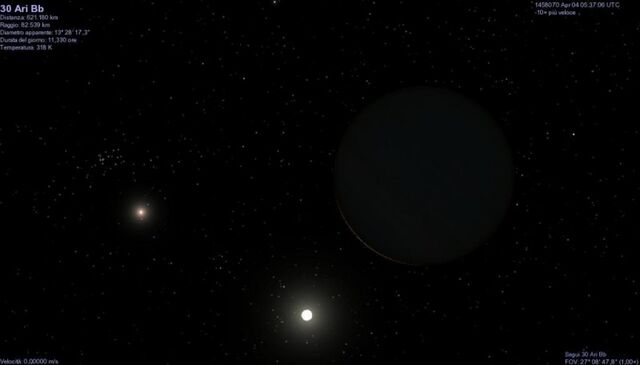 A night side of Ino (30 Arietis Bb, P375). Notice that the ultra-thin crescent is yellowish due to its sulfur clouds at a temperature of 318 K (45°C, 112°F, 572°R) during one point of its orbit. Also a picture shows two stars in 30 Arietis system: the star to the bottom left of the planet is its host star 30 Arietis B and the one to the left is a binary component 30 Arietis A.
File history
Click on a date/time to view the file as it appeared at that time.
Ad blocker interference detected!
Wikia is a free-to-use site that makes money from advertising. We have a modified experience for viewers using ad blockers

Wikia is not accessible if you've made further modifications. Remove the custom ad blocker rule(s) and the page will load as expected.